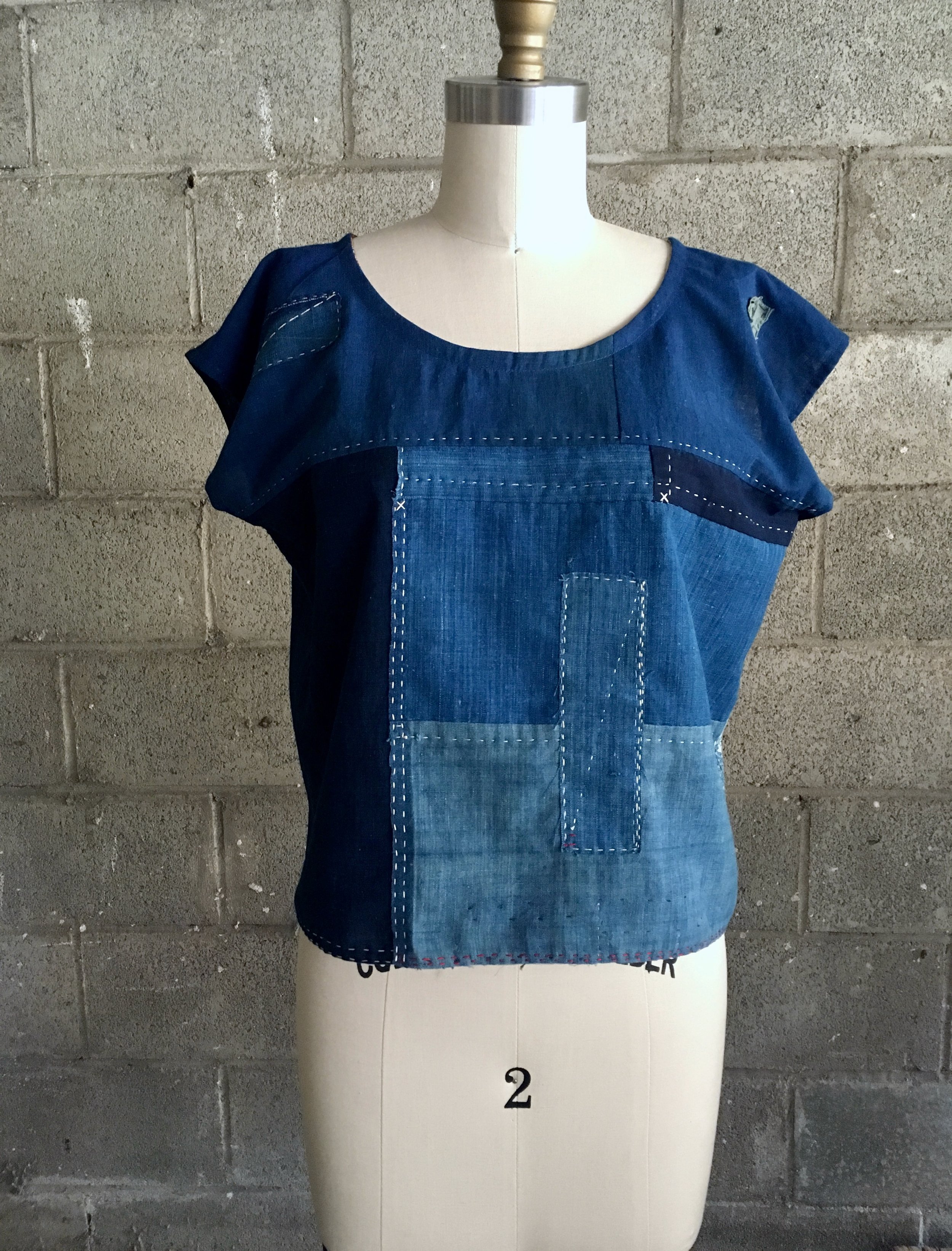 Boro Box Blouse No. 3
I've come to realize that my work is an escape. No, no, not in a negative way, rather, it affords me my own little space that cannot be violated. There is so much activity around us every moment of every day, it is very hard not to get swept up in it. And as women, when we do, we are oft inclined to blame ourselves for not being somehow different in this world that demands constant polarity. When we can stop, like, really stop and return to something simple and meaningful only to ourselves, it's a very powerful stance against being swept away by the externalities that don't really matter at all. This work says: I am not perfect, yet and still I belong, here, if nowhere else. And here alone is the only place I ever really want to be.
Stitching for me, being in my studio, making art, this is what most effectively removes me from the world to reclaim my space, to say that even if I have no idea what's going on out there, and even if I cannot keep up, in here there is a symbiosis between me and the work. The vision that takes hold, ever patiently I wait and work as it materializes before my very eyes. It never ceases to amaze me, and it's always a little magical. By the end of the week, I feel I've had the privilege of being part of many small rituals of magic, little mercies that pluck me out of the maelstrom and anchor me back where I belong.
This little box blouse just sort of happened. This week was dense with happenings that displaced me, so I made a boro tile and from that piece, I moved outward and thus, the blouse was born. It's simple, but it's also complex with history, for all of the cloth is very old, and there is an enormous amount of stitch work. Some of the original boro remains, amalgamated with my own. (I've photographed the secret life of the blouse in the last two photos, which only the wearer will ever be privy to). I've had to patch some thin areas, even out others. I've used vintage, Japanese indigo dyed muji momen (plain cloth) as the foundation, which I adore, as it is rich with possibility, interspersing light and dark so that the shades celebrate one another beneath a teem of stitching. And here's a piece that I've been holding onto for a while. That lovely segment at left back is very special indeed. It's made of hand dyed (indigo), vintage Japanese raw silk. It comes from a dismantled kimono, one from the early 1900s. There were many of us who wanted this cloth. It was so precious that it fetched a handsome sum and a handful of us were privileged to add a bit to our collections. I wondered what the others would do with theirs, and I wondered what I would do with my own. I think of it now, for a century buried beneath ancient silks, made into something that will be loved anew.
The particulars: box blouses are square, hence the name. 20"x20". This will fit a small to medium gal. Hand stitching throughout. The neckline has been finished with the finest Liberty of London silk in a floral kaleidoscope.
Thank you for ignoring the call of mass production and choosing handmade. You are helping to change the direction of our world in a very real way. xo.